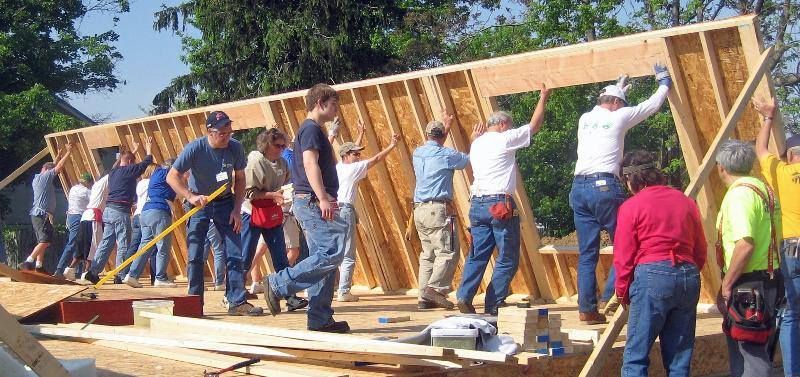 Affiliate Staff
Darryl Neher, Chief Executive Officer

Darryl joins Fauquier Habitat for Humanity in October 2018. Most recently serving as CEO and President of Habitat for Humanity of Monroe County in Bloomington, Indiana, Darryl brings to the position deeply developed skill sets, including leadership and communication skills, political and business acumen, training and teaching expertise, knowledge of land use and housing policy, and the ability to articulate and implement strategic vision.

Having been involved with various nonprofit organizations for much of his life, Darryl first came into contact with Habitat for Humanity during a home-building event several years ago. But it was during his service on the Bloomington City Council that the issues of homelessness and affordable housing came to the forefront. While there, he made sheltering and housing affordability priorities in city policy and funding, including successfully securing multi-year funding for a struggling emergency homeless shelter.

Steven M. Hicks, CPA, CGMA, PRP, Controller

Steve is a native of Culpeper, but was one of the last babies born at Fauquier Hospital when it was on Waterloo Road in downtown Warrenton. Steve is a graduate of Culpeper County High School and Radford University with a bachelor's degree in Business/Accounting. He is a Certified Public Accountant, a Chartered Global Management Accountant, and a Professional Registered Parliamentarian. He spent thirteen years in public accounting, fourteen years in the wholesale industry, and over twelve years in the nonprofit world. He has been active in several civic, professional, and fraternal organizations taking leadership roles in each. He has served on many local, state, and national nonprofit organizations' boards of directors. He and his wife Kim have three children, two grandchildren, and a step-grandson.

Melanie Burch, Senior Director of Operations and Planning

Melanie Burch has spent over twenty-five years in the non-profit and construction industry. She has been an industry analyst, small business owner, development director and started several non-profit organizations. Helping organizations grow through capacity building and community outreach brings delight to this quiet activist. A mother of three, Melanie has consistently volunteered with numerous animal, child, and housing-related non-profit organizations. Melanie's epiphany to transition these passions happened in 2015 while working for Fauquier County Community Development. Her new path took her to the Middleburg Humane Foundation as the director of development. Her breadth of experience and extensive community connections enable Melanie to discuss Fauquier Habitat's vision, mission, and goals with a broad audience.

Christi Murphy, Office Administrator & Volunteer Coordinator

Chris has loved living in Warrenton since 2005, with her husband, and their two children. A New England native, born in Connecticut, grew up in New Hampshire and attended college in Burlington, Vermont at Champlain College; who is proud to now call Fauquier County home.

Chris has worked for Fauquier Habitat for Humanity since July 2017, as the Office Administrator and Volunteer Coordinator. In this position, she cherishes her daily interactions with our amazing volunteers and Habitat homeowners.

Taylor Rivera-Stone, Associate Director of Engagement and Development

Taylor was first introduced to Habitat's mission while on a Collegiate Challenge trip with Catholic University's Habitat campus chapter. From there, she led the chapter's executive board, growing the chapter's Collegiate Challenge program and spearheading its first Global Village trip program. After receiving her Bachelor's in Psychological and Brain Sciences, Taylor served as an AmeriCorps member for two years – first with Habitat Metro Denver, supervising volunteers on the build site, and then with Habitat for Humanity International, supporting the Cost of Home national advocacy campaign. Taylor is excited to leverage her diverse experience with Habitat to get others excited about the work Fauquier Habitat is doing. Taylor lives in Washington, DC with her husband Eddie. She has built with nearly 15 local Habitat organizations across the country, and she continues toward her goal of building with a Habitat organization in every state.
Committees
Building Committee, Melanie Burch

Faith Relations Committee, Taylor Rivera-Stone

Family Selection Committee, Chair Edda Berglund

Finance Committee, Chair Tom Bartkiewicz

ReStore Steering Committee, Dana Papas & Melanie Burch

Women Build, Chair Elizabeth Neher
Building Committee

Work with our Construction Director to carry out everything needed for new home builds, rehabilitation, and repairs. Consider this an occasion to meet new people while strengthening your community by building safe, affordable housing. You'll have the ability to improve people's lives, work alongside future Habitat homeowners, learn different skills, and share your skill. In fact, there are numerous benefits when it comes to volunteering. You don't need any experience. Bring your friends, family, co-workers, and neighbors, the more, the merrier!

Events & Fundraising Committee

Make Habitat's mission possible! We need your help raising funds through ideas development, event planning and building relationships within our community.  Implement unique ideas that support our mission and raise funds for all we need to keep the doors open and build communities.

Faith Relations Committee

This committee establishes and maintains strong relationships with local congregations, enlists their support for projects and promotes Fauquier Habitat for Humanity's mission. Activities include leading discussions of Habitat's goals and activities and coordinating the participation of individual congregations.

Family Partnership Committee

Work directly with families to ensure successful homeownership! Family Partnership keeps in touch with current and prospective homeowner families. The committee works to provide a mutual support system to facilitate the transition to home ownership, including educational opportunities in home ownership and maintenance, family finance and community resources. This is our most challenging and rewarding committee. Many of our committee members maintain close family-like relationships with their partners throughout their entire experience as Habitat homeowners.

Family Selection Committee 

Help us find the next homeowner family! Activities include recruiting prospective families, screening applications, interviewing applicants and their references, visiting their current home and recommending applicants for approval.

Finance and Administration Committee

This committee oversees the finance and day-to-day function of the affiliate office. The Executive Director reports to the Board and to the Finance and Administration Committee. The members of the Finance and Administration Committee are responsible for the financial well-being of the organization. This committee is made up of Board Members.

Real Estate Committee

The Real Estate Committee has the responsibility for locating, evaluating and recommending property purchases. The committee works in close cooperation with the Building Committee to ensure the suitability of property prior to acquisition. Experience with land acquisition is helpful but not required.

ReStore Steering Committee 

The Restore Steering Committee's mission is to provide a supporting role to the ReStore Director. Proceeds from the ReStore support the building projects of Fauquier Habitat for Humanity.

Women Build

Women Build works to recruit, empower and train women to build simple, decent and affordable homes. Women Build worksites provides a unique opportunity to learn construction skills and to build leadership and teamwork skills. If you are not interested in building, that's okay! We have many other needs that can be filled. Fauquier Habitat for Humanity's Women Build invites you to make friends and memories that will last a lifetime while making a lasting change in our community.