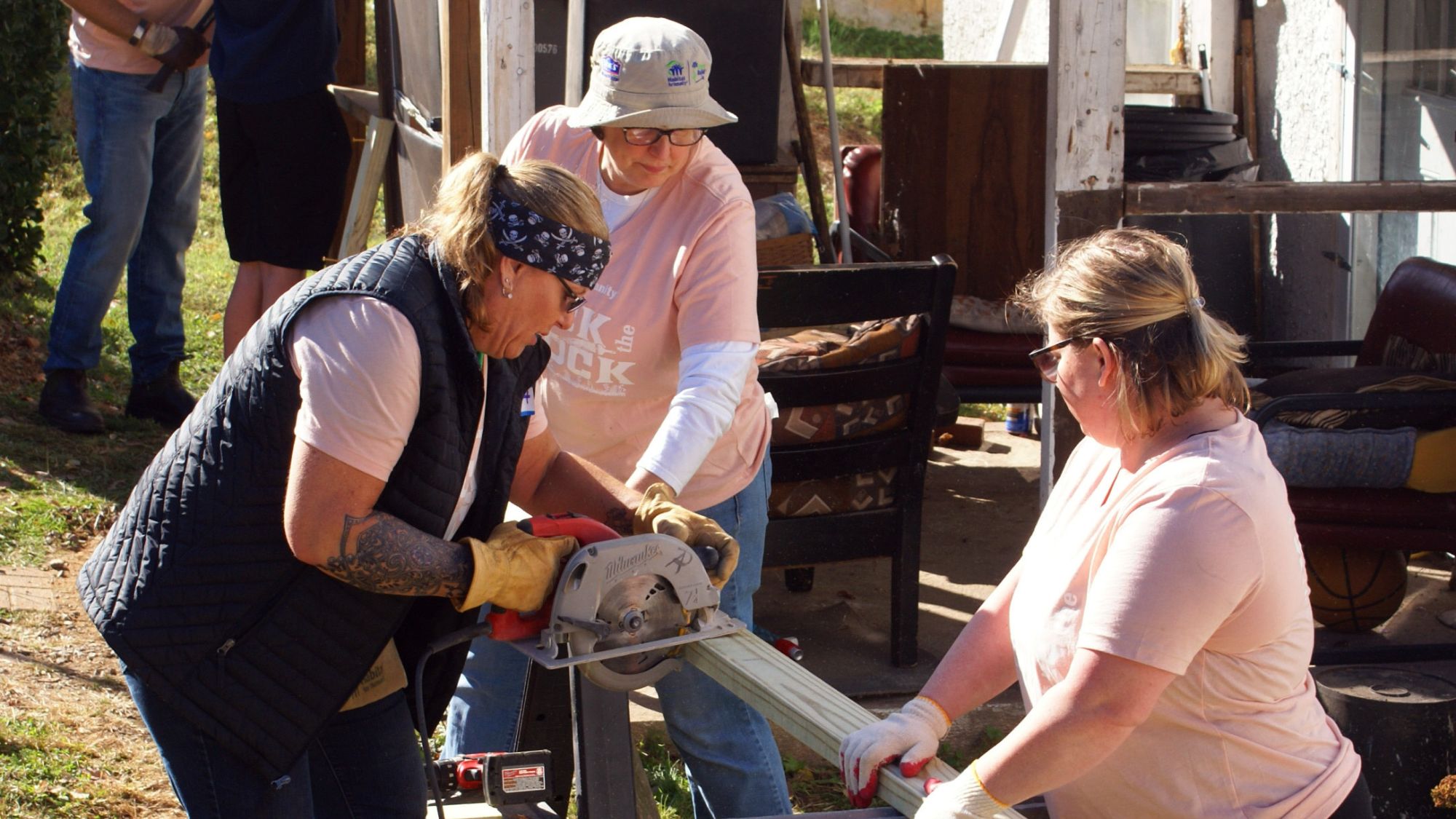 "It was wonderful to be part of such a neighborhood effort, and working with the Women Build was nothing short of amazing." - Mayor Carter Nevill
---
What is Women Build?
The Women Build mission is to recruit, educate and nurture women to build and advocate for simple, decent and affordable houses in their communities. Women Build is not about excluding men; it's about including women so they can learn construction skills on a more inclusive build site.
Any woman who wants to learn how to build and construct a home is invited to join us. No experience is necessary. Volunteers work under the guidance of construction professionals, and also alongside other volunteers and future Habitat homeowners. Whether you are learning new skills or simply adding a few to your tool belt, this is a rewarding experience for all involved and improves the community that you share.
Women Build is also a terrific way to involve your friends and family of all ages in crucial work with a lasting impact. Women helping women sends a positive and powerful message. You can also come alone, and make new friends. The atmosphere is collaborative and friendly.
Are you ready to build with us? Contact womenbuild@fauquierhabitat.org or call 540-341-4952.
---
May-June 2020
10 teams, 100 women, one goal of $25,000!
What is a Women Build Week?
Women from your area join together for a multi-day effort to build a home or critical home repair for low-income hardworking families in the community. 10 teams of 10 women will work together to raise a minimum of $250 each towards our goal of $25,000. Monies raised will support renovations and new homes for low-income families in Fauquier and Rappahannock Counties. 
Ready to join? Contact womenbuild@fauquierhabitat.org or call 540-341-4952. 
POWER HOURS!
The first Power Hour is at the Home Depot located at 267 Alwington Blvd., Warrenton.
All other Power Hours are located at Genesis Home Improvement  101 E Marshall St, Remington near the future Women Build site.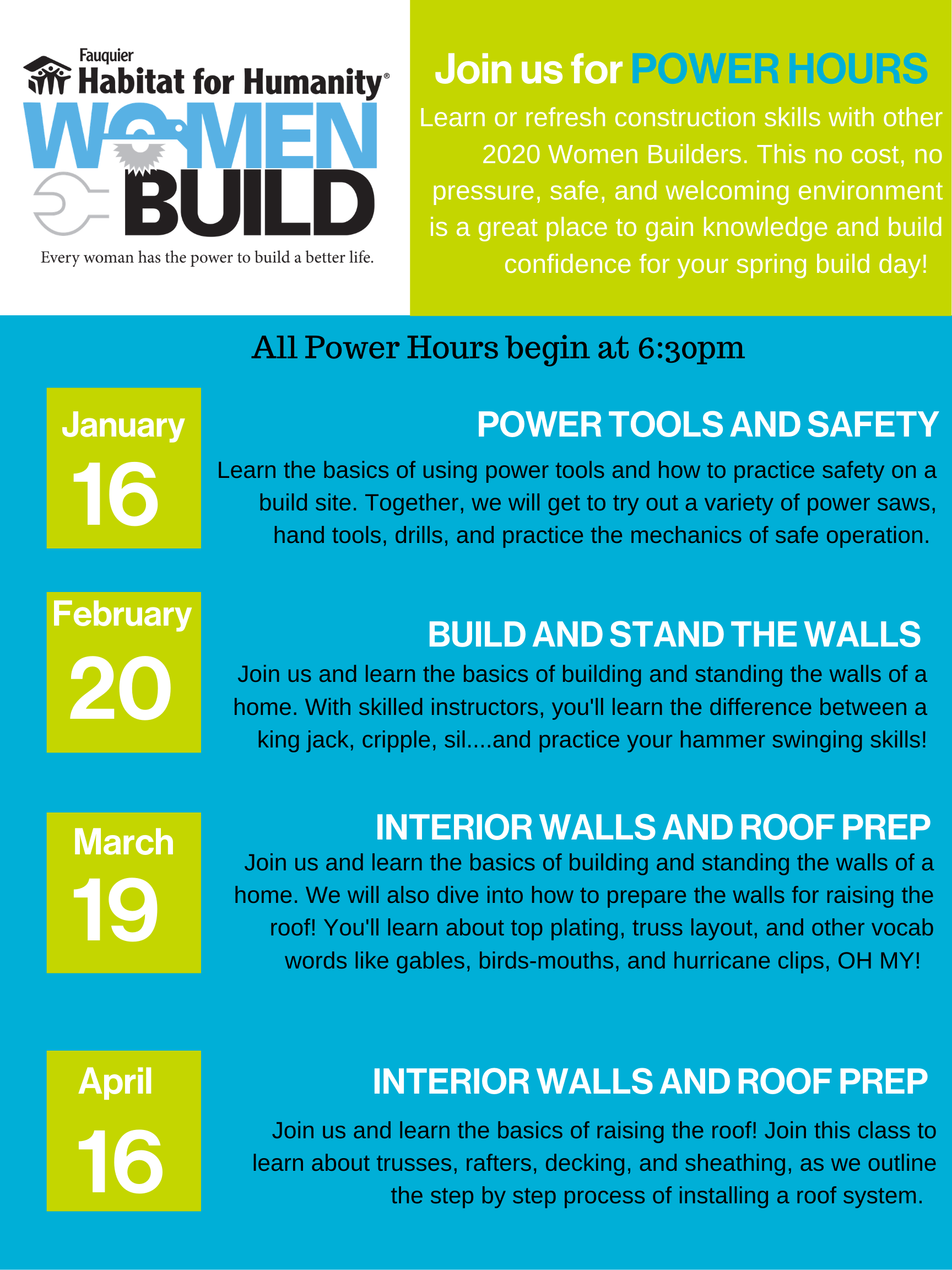 Join Us
---
Available Committee Positions:
Team Leader Coordinator: The success of the Women Build model depends upon the recruitment, cultivation, and retention of connected and committed Team Leaders. The TL Coordinator is responsible for the recruitment of ten committed Team Leaders and for the coordination of the necessary communication to connect and support the Team Leaders for success. This includes, but is not limited to: Consistent status emails targeting: recruitment pushes, fundraising prompts and suggestions, communication drafts for broader distribution, and gratitude.
Crew Leader Coordinator: Crew Leaders are build site volunteers that are specifically trained on certain build tasks and comfortable training and leading small teams of 5-7 volunteers on a specific task. The CL Coordinator is responsible for recruiting, cultivating, and with community partners and Habitat Construction staff, coordinating the training of a minimum of five women to serve as Crew Leaders at the 2020 Women Build event. This includes, but is not limited to: scheduling training events and from those events, gaining CL commitments from skilled volunteers, regular communication to connect the Crew Leaders to the available tasks and learning opportunities with the Habitat Site Supervisor.
Food Donor Coordinator: The food donor coordinator is responsible for recruiting, cultivating, and retaining food donation providers that will prepare morning snacks, beverages, and lunches for the Women Build site volunteers. Feeding people well is one of the very best expressions of gratitude!
Build Site Experience Coordinator: The Build Site Experience Coordinator will recruit the team of non-building volunteers to serve as Site Hosts and Photographers at the building site during the Women Build event. The Site Host team will ensure that the Hospitality tent is welcoming and well-stocked with volunteer needs, such as sunscreen, first aid equipment, snacks, and water and work to anticipate the needs of volunteers. Site hosts will welcome volunteers, sign them in, collect waivers, and distribute WB incentive items. Photographers will capture significant build moments and share images that become the future collateral for sharing the story of Women Build.
Design/Marketing Coordinator: strictly adhering to the Habitat for Humanity branding guidelines, the Design/Marketing Coordinator will create print and digital collateral pieces to connect the community to the opportunities to join and support Fauquier Habitat.
If you are interested in one of these positions, sign up for this opportunity on our volunteer page and we will reach out to you!