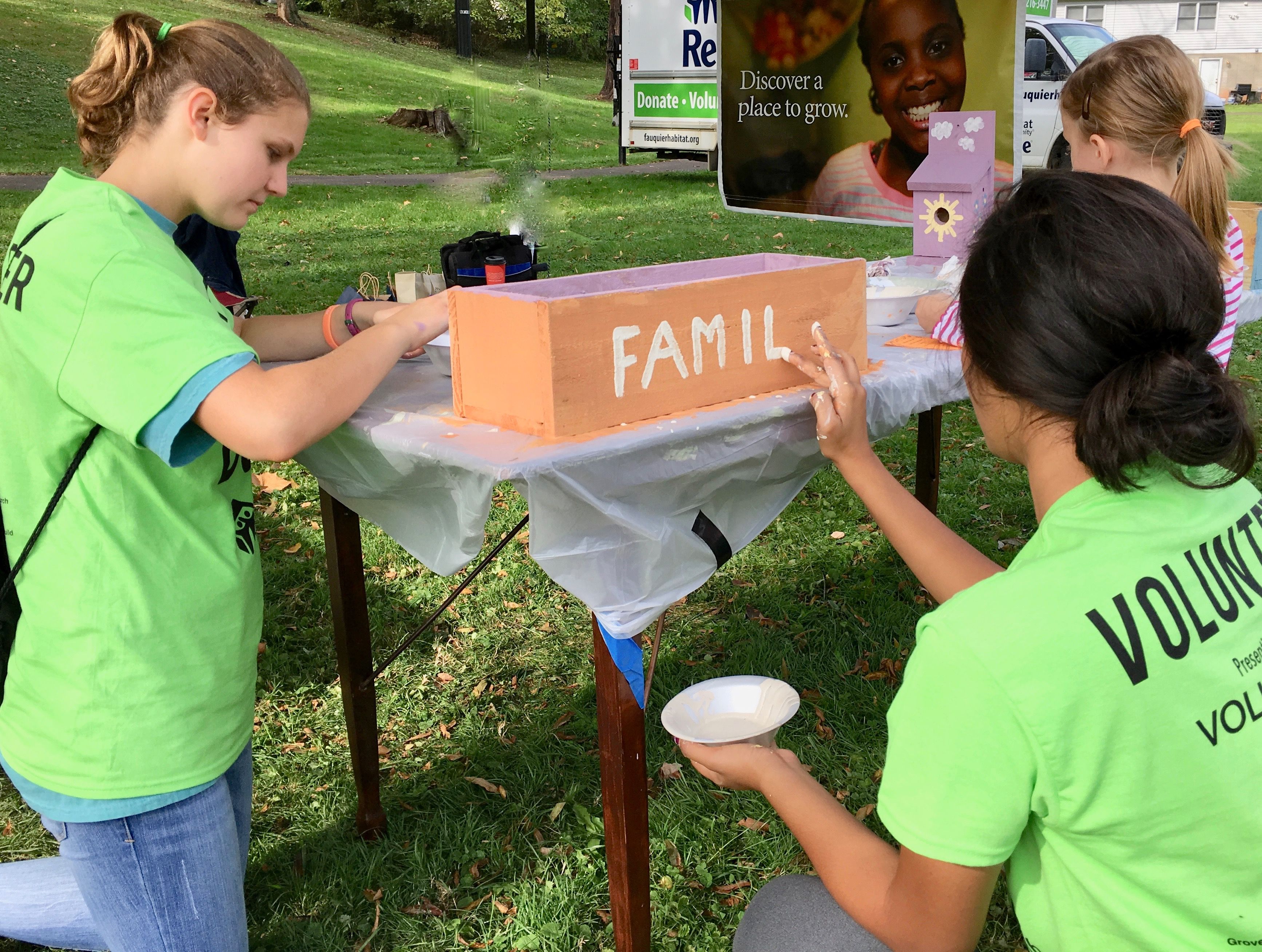 Advocacy
The country – and we the Virginia Habitat affiliates – are coming together to fight the effects of the coronavirus pandemic and work to mitigate its enormous economic impact. At Fauquier Habitat for Humanity, we are all too aware of the precarious housing situation faced by many of our region's working families. It is inevitable, without drastic action, that this position will rapidly worsen and that many will face the irrecoverable consequences of eviction, repossession, and displacement. We are committed to working with federal, state and local authorities in any way we can. Read more under Advocate.
---
Important Changes Due to COVID-19
Our volunteers and partners are the heart of our organization; building our homes and helping our office and ReStore run smoothly every day. However, due to the health concerns of COVID-19, Fauquier Habitat has canceled large volunteer events and service activities until further notice. During this time, our office, building site, and ReStore will be operated by staff and core volunteers. 
Mortgage and rent payments, monetary donations, and other correspondence can be dropped in the office mail slot or mailed to 98 Alexandria Pike, Suite 43 Warrenton, VA 20186. You may still reach us at the office (540) 341-4952 or ReStore (885) 914-3447. 
Our Fauquier Restore is open to the public Tuesday through Friday, 10 - 6, and Saturday 10 - 4. 
We remain incredibly thankful for your support, service, and understanding. Please stay safe and healthy as we work together through this. 
Sincerely, 
Darryl Neher
Chief Executive Officer
Fauquier Habitat for Humanity  
---
Fauquier Habitat Buys Properties with PATH Grant
Fauquier Habitat for Humanity and the PATH Foundation announced this month an investment in affordable housing through the Haiti Neighborhood Revitalization initiative.  Funded by a $1,050,000 grant, Fauquier Habitat has taken ownership of five properties comprising nine living spaces.  The initiative allows Fauquier Habitat to lead a focused neighborhood revitalization program to preserve Haiti Street history while ensuring quality affordable housing. The first houses were built on "Hayti" Street starting in 1869. The street was a new road between Alexandria Turnpike and Horner Street. The street was known as "Hayti" since the 1800s until the spelling of the name was changed to Haiti several years ago.

Christy Connolly, PATH Foundation president and CEO, said this is an important step in tackling a difficult problem.  "Availability of affordable housing in our area is a real issue, and it is challenging to find ways to chip away at the problem.  We believe that the Fauquier Habitat effort is very strong because of its extensive planning and partnership with neighborhood residents, the Town of Warrenton, Fauquier County, and other regional and national organizations with proven success in these efforts."

Fauquier Habitat Executive Director Darryl Neher added, "Fauquier Habitat values the PATH Foundation's ongoing support of our efforts to protect and expand the availability of permanently affordable housing in Fauquier and Rappahannock counties. With this significant grant, we have acquired five properties on Haiti Street, bringing our total inventory to 11 properties, representing 20 units of housing. In doing so, we're getting in front of potential gentrification of the neighborhood, which most often means displacement of people, further escalation of housing prices, and the economic erosion of affordability in the county. What's next is a strategic-planning process to help us identify how to best utilize the properties in pursuit of fulfilling our mission to ensure everyone has a safe, decent, and affordable place to live. Habitat is a hand-up not a hand-out. Habitat Partner Families must demonstrate the ability to pay a mortgage, just like every other homeowner."

The planning process will allow residents of the neighborhood, Fauquier Habitat staff, town officials, architects Jim Hricko, representatives from HD Advisors, Virginia Housing Development Authority, Virginia Community Development Corporation, and other interested community partners to determine possibilities for the neighborhood.  This significant process is expected to take six to 12 months.

Kirsten Dueck, PATH Foundation senior program officer, has worked on the effort since it was first envisioned three years ago.  "We continue to be impressed with Fauquier Habitat's efforts to collaborate with neighbors, community members and experienced organizations to make certain this revitalization program is approached thoughtfully.  The PATH Foundation's grant provides for the purchase of the properties, but also for hiring essential project staff to shepherd the process."

She added, "It has been incredibly special to be part of a group of people truly committed to honoring the Haiti Street neighborhood history and to working together toward its healthy and vibrant future."

Fauquier Habitat's Director of Community Development Mary Correia has been instrumental in the project's inception and development.  She said, "From the earliest days of our neighborhood revitalization work, PATH has fundamentally understood the importance of Habitat's aspiration to protect this culturally and historically significant neighborhood from market-rate gentrification, and supported our work in helping residents identify and realize goals for a sustainable, improved quality of life in their community. It is so gratifying to be able to embark on this next phase of the journey because of this extraordinary demonstration of the foundation's buy-in to our vision of building not just homes, but healthy, thriving communities."

Carolina Gomez-Navarette has also been involved in the planning of the project as a Fauquier Habitat board member and Habitat Home Owner/Haiti Street Resident.  Carolina said, "I am thankful for PATH's generosity and for God putting me on this path with Habitat. Sometimes I cannot believe I am part of this work to make our community better."
"Fauquier Habitat not only builds deserving family's homes, it also is preserving existing affordable housing by offering critical home repairs for lower-income families who already own their home. These repairs are necessary to maintain the health, safety and longevity of their home. However, many families cannot afford to hire contractors to make these repairs. A key strategy in making a positive impact of affordable housing must include a strategy of preserving the existing stock through repairs. This is especially pressing for our aging population, who may not be able to keep up with the needed repairs. Projections show that over the next ten years, there will be an explosive growth in seniors age 65 and over. We must be ready to offer solutions for this population in particular, along with all households of any age who are in need of repairs," says Neher.

#####
---
We are Building!
Our newest build is located at 116 Haiti Street in Warrenton. Come build with us on Wednesdays and Saturdays through November. No building experience necessary, our construction manager will walk you through every step!  Build volunteers must be over the age of 16 (ages 16-17 must volunteer with a guardian). Sign up to build or provide lunches to our volunteers: Volunteer now!