The country – and we the Virginia Habitat affiliates – are coming together to fight the effects of the coronavirus pandemic and work to mitigate its enormous economic impact. At Fauquier Habitat for Humanity, we are all too aware of the precarious housing situation faced by many of our region's working families. It is inevitable, without drastic action, that this position will rapidly worsen and that many will face the irrecoverable consequences of eviction, repossession, and displacement. We are committed to working with federal, state and local authorities in any way we can.
In collaboration with Habitat affiliates across the United States, we are urging our members of Congress to take urgent action to help families and individuals keep a roof over their heads during the short-to-medium term. Learn about Habitat's six-point plan below and follow us @FauquierHabitat to stay in touch.
We are urging federal lawmakers to:
Offer mortgage payment forbearance for 3-6 months. Mortgage servicers should be required to allow homeowners to defer payments for a grace period of at least three months without reporting missed payments to credit agencies, and without assessing late fees. If this cannot be required of all mortgage servicers, it should at least be required of those servicing loans insured by federal agencies and government-sponsored enterprises like Fannie Mae and Freddie Mac. Forbearance would provide time for unemployment insurance or other assistance to arrive, for businesses to reopen and for the crisis to pass. A national grace period would be easiest to administer. If it is important to narrow forbearance, it should be targeted to low- and moderate-income households and other property owners earning up to 120% of median income.
Issue a national moratorium on foreclosures and evictions. During Hurricane Harvey, Freddie Mac suspended evictions and foreclosures on homes that were secured by Freddie Mac-owned or guaranteed mortgages. With us now facing a national health emergency, a national moratorium on foreclosures and evictions should apply to homes or apartment properties with mortgages guaranteed or insured by Fannie Mae, Freddie Mac, the Federal Housing Administration, the Department of Veteran Affairs and the Rural Housing Service. Better still would be a blanket short-term prohibition on foreclosures or evictions to protect homeowners and renters across the board.
Offer a short term basic income supplement to get cash quickly and directly into the hands of low-to-moderate-income workers, individuals, and families affected by the crisis. This should be enough – e.g. up from $6,000 – to provide basic living expense support for three months, including housing, food and medical. For those out of work or with reduced hours, it will offer stabilization. For those still at work, it will help cover the extra costs incurred because of the crisis such as medicine and food, pay down debt, or otherwise provide stimulus to the economy. Ideally, it would be targeted to those earning no more than 120% of the median income.
Provide commercial stabilization assistance for small businesses and non-profits. Commercial tenants also face eviction threats and will need help meeting payroll during this unprecedented crisis. Assistance through the Small Business Administration or other entities should be interest-free loans for non-profits. Given the breadth and urgency of delivering assistance, the SBA should explore partnerships with national organizations that can help expedite loans.
Provide grants to bona-fide nonprofit lenders to enable extended-period-of-payment forbearance to low-income homeowners impacted by the coronavirus. A reduction in mortgage revenue will have an immediate and substantial impact on their ability to do their work. "Bona-fide nonprofit lenders" could be defined using the criteria established in the SAFE Act Final Rule from HUD.
Relax grant performance requirements in federally assisted housing grants. For providers of stable affordable homes partnering with the federal government, an extension of grant performance requirements (e.g. deadlines) is especially helpful as project work slows.
Fauquier Habitat for Humanity, across Virginia, and nationally, remains dedicated to ensuring families remain in stable housing in the weeks and months ahead. We promise to keep you up to date on developments. Thank you for your support and please email us at info@FauquierHabitat.org.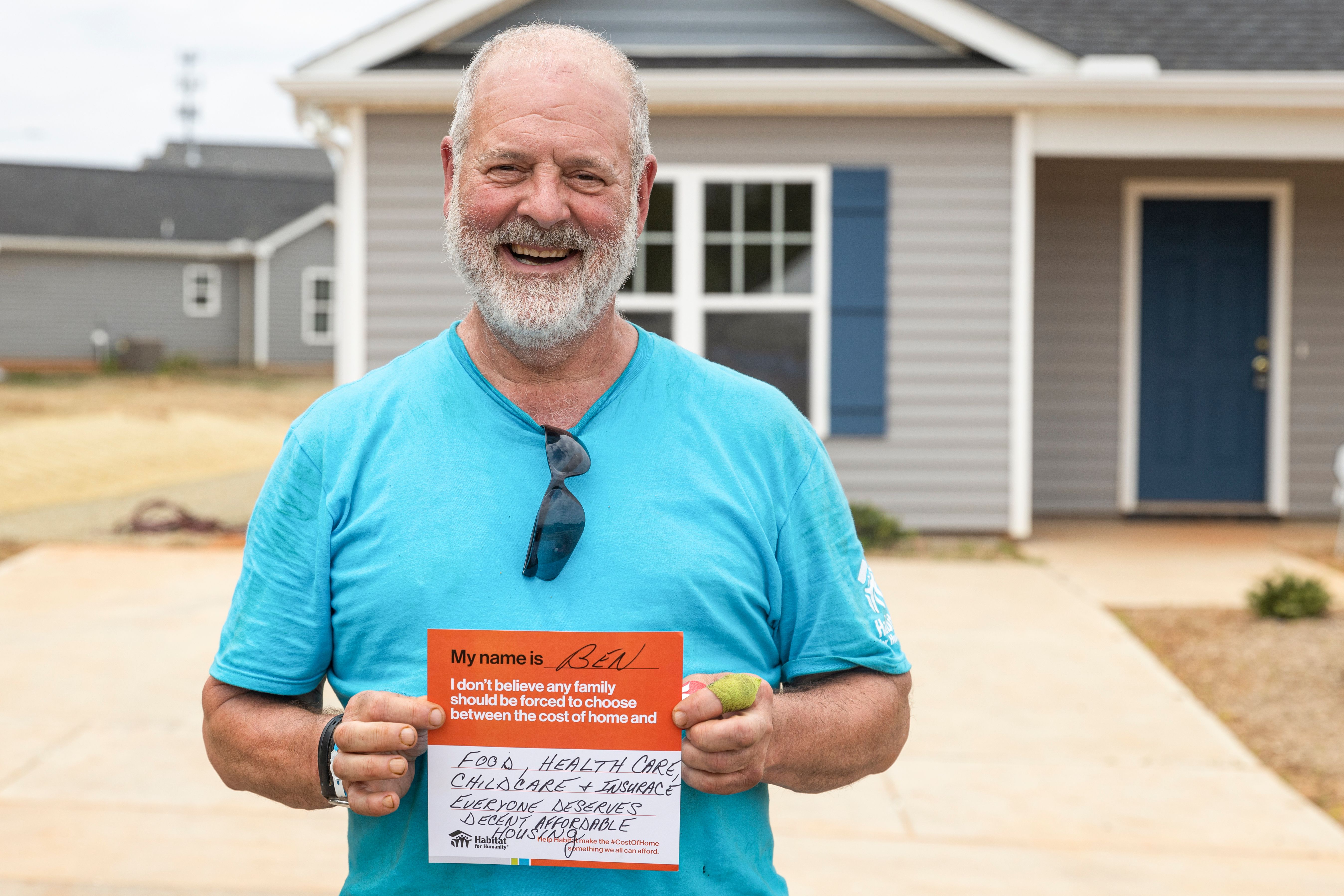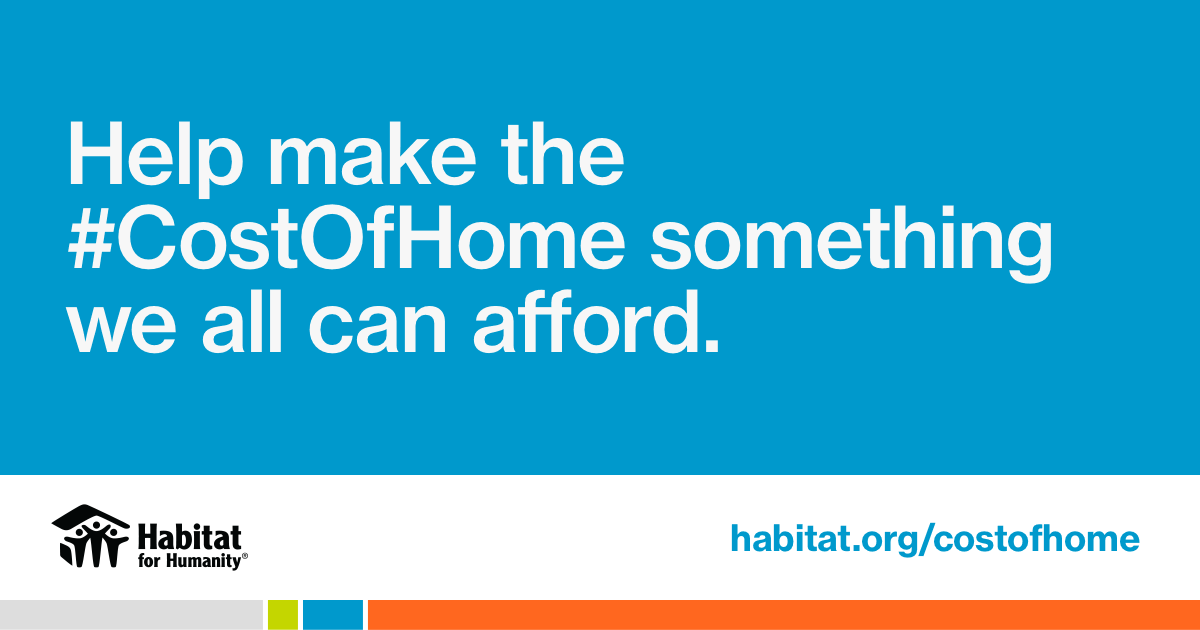 The issue: housing affordability 
As an affiliate of Habitat for Humanity International, Fauquier Habitat has joined the Cost of Home National Advocacy Campaign to work alongside housing advocates, Habitat homeowners, volunteers and supporters, and our local government to find the solutions and help create the policies that will allow 10 million individuals to meet their most basic needs. 
Families all across the United States are paying too high a price to cover the cost of their home. Rents and homeownership costs are skyrocketing, while wages are not keeping pace. Far too often, families struggle to make ends meet. At Fauquier Habitat for Humanity, we know that a family should never have to spend more than 30 percent of their income on a home. But consider that today over 19 million U.S. households pay half or more of their income on a place to live. 
That is unacceptable. 
That means that 1 in 6 families are denied the personal and economic stability that safe, decent and affordable housing provides. Instead, 1 in 6 families are forced to make impossible choices. 
Safe homes. Nutritious food on the table. Health care. Access to good schools. Reliable transportation. 
Which would you choose? 
Habitat for Humanity knows the complexities that surround the cost of a home. We also know the struggle, stress, and pain of far too many families in our communities. And we know that those with the fewest resources are forced to make the hardest choices. We have to take a stand and declare our commitment: No family should have to pay more than half of their paycheck to cover the cost of a home. Everyone deserves to build the foundation for a strong, healthy future for themselves and their families — no matter where they live or how much money they earn. 
Every family deserves the chance to thrive.  
How can I help?
Visit www.habitat.org/costofhome to learn more about this nationwide campaign. 

Join one of our committees and directly influence Fauquier Habitat's role in the affordable housing movement.

Volunteer on our local build site.

Donate to Fauquier Habitat to support our efforts to build affordable housing.